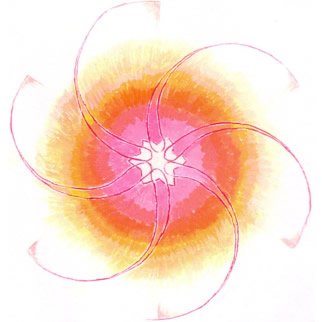 Light Pod and Channelling: Regular meetings for Light Body Graduates in Norfolk UK.
Definition of Light Body:
"The highest octave of the physical body which exists in the etheric."
~ Chris Griscom
This mandala "Sextuplets" was featured on the cover of the February 2008 edition of Breathe magazine
"I emerge, a new earth and a new heaven emerge, through the hearts and minds of those who can receive and express them"
~ Limitless Love and Truth through David Spangler
Please send e-mail from the Contact page if you are interested in joining Sarah Berry and myself, giving details of your connection with the School of the Living Light (Ely, then Glastonbury), LuminEssence (Medford, Oregon, U.S.A.) or the LaUna Huffines Path of Light (Ashland, Oregon, U.S.A.) Links to these are now on my Contact page
For more information
See Interview Series Nos. 3 and 5
featuring Laura Dane and Sarah Berry
*****
Light Pod: Lana and Sarah have been working with the Light Body since at least 1998, before undertaking training with Lita di Alberdi.  We have evolved our individual approaches, and in addition we work together combining these approaches as Light Pod.
In her healing work, Lana works through the heart, and the transmission of the divine will energies following the work of Sanaya Roman.
Sarah has a different focus, in opening as a channel for the divine energies, and is currently working with or experimenting on combining the light body with the matrix.