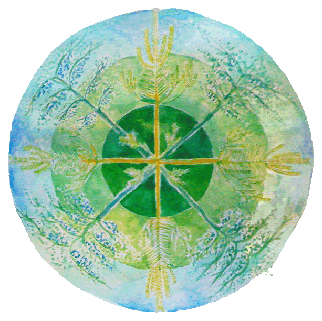 Fleet Firs Mandala
Background:
Have been sensing and sketching the fir trees at Fleet for over 20 years, since August 1991.
It was only in the summer of 2011, 20 years later, that they formed into a mandala.
"If poetry comes not as naturally as the leaves
to a tree it had better not come at all"
~ John Keats
What they are saying about the Fleet Firs mandala:
"Very lovely gentle organic vibration..."
"This is lovely.  I love symmetrical designs and it has a freshness about it."
"Your global rota symmetry of trees not only points to the tree of life but the menorah as well, very meaningful in its lovely greenness and blueness..."